YOUR HELP NEEDED
Although our site is very popular, the current economic climate has reduced our revenues just when we need extra security to prevent attacks from hackers who don't like what we do. If you think what we do is worthwhile, please donate or become a member.
---
---
---
HUH? WHAT IS THIS?
» We enable adults to determine whether a movie is appropriate for them or their children, according to their own criteria. Unlike the MPAA we do not assign an inscrutable rating based on age but 3 objective ratings for SEX/NUDITY, VIOLENCE/GORE & PROFANITY, on a scale of 0 to 10, and we explain in detail why a film rates high or low in a specific category; we also include instances of SUBSTANCE USE, a thorough list of DISCUSSION TOPICS that may elicit questions from children, and the MESSAGE the film conveys. Since our system is based on objective standards, not the viewer's age or the artistic merits of a film, we enable adults to determine whether a movie is appropriate for their own children...
[more »]
---
---
| | | |
| --- | --- | --- |
| | | We're a totally independent website, with no connection to any company or political group or individual. We want to keep it that way, and you can help with a donation. |
---
NEW REVIEWS -
---
Phantom Thread - 3.3.6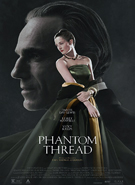 A famous dress designer (Daniel Day-Lewis) in 1950s London creates dresses for the rich, the famous and the nobility. His ordered life is interrupted when he falls in love with a younger woman (Vicky Krieps) with whom he develops an unorthodox relationship. Also with Lesley Manville, Sue Clark, Joan Brown and Harriet Leitch. Directed by Paul Thomas Anderson. [2:10 - R]
---
12 Strong - 1.6.7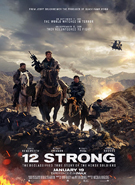 Based on the true story of the American Army Special Forces team ordered into Afghanistan to destroy the Taliban in 2001, just after the 9/11 bombings. With Chris Hemsworth, Michael Shannon, William Fichtner, Elsa Pataky, Taylor Sheridan, Geoff Stults, Michael Peña, Rob Riggle, Trevante Rhodes and Navid Negahban. Directed by Nicolai Fuglsig. Several lines of dialogue are spoken in Russian with English subtitles. Many lines of dialogue are spoken in Afghan languages with no subtitles or translations. [2:10 - R]

---
Proud Mary - 1.6.5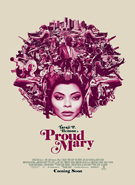 A professional assassin (Taraji P. Henson) working for an organized crime family reevaluates her life after she encounters a teenage boy (Jahi Di'Allo Winston) desperately in need of help. Also with Billy Brown, Neal McDonough, Margaret Avery, Xander Berkeley, Rade Serbedzija, Erik LaRay Harvey and Danny Glover. Directed by Babak Najafi. A few lines of dialogue are spoken in another language without translation or subtitles. [1:29]

---
Insidious: The Last Key - 1.7.5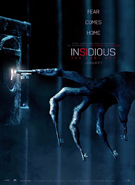 A parapsychologist (Lin Shaye) haunted by memories of abuse and ghosts from her childhood is drawn back to the house that started her nightmares. Also with Leigh Whannell, Angus Sampson, Caitlin Gerard, Spencer Locke, Josh Stewart, Tessa Ferrer and Bruce Davison. Directed by Adam Robitel. [1:43]
---
Paddington 2 - 1.3.1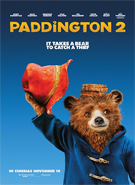 The second installment of the beloved bear tales: Paddington (voiced by Ben Whishaw) is now living with the Browns and is anxious to earn enough money to buy his dear Aunt (voiced by Imelda Staunton) a special gift for her 100th birthday. Also with Madeleine Harris, Samuel Joslin, Sally Hawkins, Hugh Grant, Peter Capaldi, Claire Keelan, Hugh Bonneville and the voice of Michael Gambon. Directed by Paul King. [1:43 - PG]
---
The Commuter - 1.6.5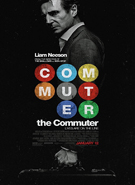 A man (Liam Neeson) who's already having financial troubles loses his job and boards his usual commuter train to get home to his family. When a woman offers him $100K for a seemingly simple task he becomes inadvertently involved in a deadly conspiracy. Also with Vera Farmiga, Patrick Wilson, Jonathan Banks, Sam Neill, Elizabeth McGovern, Killian Scott and Ella-Rae Smith. Directed by Jaume Collet-Serra. [1:44 - PG-13]
---
Hostiles - 1.7.5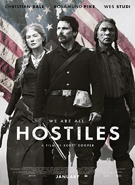 Set in 1892: an army captain (Christian Bale) reluctantly agrees to escort a dying Cheyenne chief and his family back to his homeland in Montana. Many obstacles complicate the treacherous trip and challenge the captain's racial prejudices. Also with Rosamund Pike, Wes Studi, Jonathan Majors, John Benjamin Hickey, Scott Shepherd, Stafford Douglas, Jesse Plemons, Ben Foster, Timothée Chalamet, Adam Beach, Xavier Horsechief, Q'orianka Kilcher and Tanaya Beatty. Directed by Scott Cooper. Several lines of dialogue are spoken in an Algonquian language with English subtitles. [2:13 - R]
---
Molly's Game - 4.5.7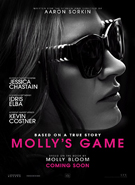 Based on true events in the life of Molly Bloom (Jessica Chastain), a competitive skier and Olympic hopeful who turned to hosting high-stakes poker games for the wealthy and was later pursued by the FBI. Also with Idris Elba, Kevin Costner, Michael Cera, Jeremy Strong, Chris O'Dowd, J.C. MacKenzie, Brian d'Arcy James, Bill Camp and Graham Greene. Directed by Aaron Sorkin. [2:20 - R]
---
Call Me By Your Name - 8.1.5
Set in 1983: A man (Armie Hammer) working as a research assistant with a professor in Northern Italy befriends the professor's teenage son (Timothée Chalamet) and their relationship blossoms into sexual romance. Also with Michael Stuhlbarg, Amira Casar and Esther Garrel. Directed by Luca Guadagnino. Several lines of dialogue are spoken in Italian with English subtitles. [2:12 - R]
---
Father Figures - 5.5.10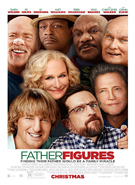 A woman (Glen Close) tells her adult sons (Ed Helms and Owen Wilson) that she does not know who their father is, so they plan a road trip to interview men that she has known in her past. Disappointed at every turn, they arrive back home and make some surprising discoveries. Also with Terry Bradshaw, Ving Rhames, J.K. Simmons, Katt Williams and Christopher Walken. Directed by Lawrence Sher. [1:50 - R]
---
All the Money in the World - 4.6.6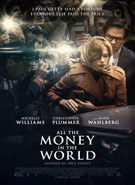 Based on true events: In 1973 business tycoon John Paul Getty's (Christopher Plummer) teen grandson (Charlie Plummer) was kidnapped, but the billionaire refused to pay the ransom. The boy's mother (Michelle Williams) turned to a Getty business manager (Mark Wahlberg) to help save her son. Also with Romain Duris, Timothy Hutton and Andrew Buchan. Directed by Ridley Scott. Several lines of dialogue are spoken in Arabic and Italian with and without English subtitles. [2:12 - R]
---
the listings continue below...
---
NOW PLAYING IN THEATERS -
---
Pitch Perfect 3 - 3.4.3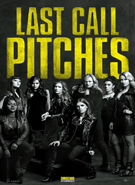 The third installment for the a capella singers: After they've gone their separate ways to try to find work they decide to come back together for an OSU tour that culminates in unexpected outcomes for each of them. With Anna Kendrick, Rebel Wilson, Brittany Snow, Anna Camp, Hailee Steinfeld, Ester Dean, Hana Mae Lee, Kelley Jakle, Shelley Regner, Chrissie Fit, Elizabeth Banks, John Michael Higgins, John Lithgow, Matt Lanter and Guy Burnet. Directed by Trish Sie. [1:33 - PG-13]
---
Jumanji: Welcome to the Jungle - 4.5.4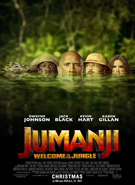 Four high school students end up together on detention and uncover an alternate reality video game. Assuming the identities of adult avatars, they enter the jungle setting of the game and try to survive and return home. With Dwayne Johnson, Kevin Hart, Jack Black, Karen Gillan, Bobby Cannavale, Nick Jonas, Alex Wolff, Ser'Darius Blain, Madison Iseman and Morgan Turner. Directed by Jake Kasdan. [1:59 - PG-13]
---
The Greatest Showman - 3.3.2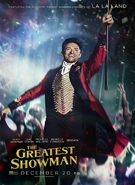 A musical film based on the story of P.T. Barnum (Hugh Jackman) and how his imagination and salesmanship inspired the creation of his sensational circus. Also with Michelle Williams, Zac Efron, Zendaya, Anne Wheeler, Rebecca Ferguson, Austyn Johnson, Cameron Seely, Keala Settle, Sam Humphrey, Yahya Abdul-Mateen II, Eric Anderson, Ellis Rubin, Skylar Dunn and Daniel Everidge. Directed by Michael Gracey. [1:45 - PG]
---
Florida Project, The - 5.4.10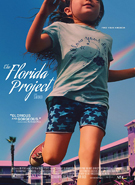 A young woman (Bria Vinaite) struggles to raise her young daughter (Brooklynn Prince) while gathering money in any way she can to pay her weekly rent at a Florida motel that's just outside the Disney World complex. Also with Willem Dafoe, Valeria Cotto and Christopher River. Directed by Sean Baker. A few lines of dialogue are spoken in Spanish with English subtitles. [1:51 - R]
---
Ferdinand - 1.3.2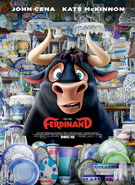 A young bull living on a ranch with his father is trained to become a fighting bull, despite the fact that he doesn't like to fight. When his father is killed by a matador in the ring, the young bull runs away and is taken in by a flower farmer and his young daughter as a pet. When he grows up to be huge and muscular (voiced by John Cena) he's taken away and forced to face his fears. Also with the voices of Kate McKinnon, Bobby Cannavale, Raúl Esparza, Jerrod Carmichael, Julia Scarpa Saldanha, Lily Day, Anthony Anderson, Peyton Manning, David Tennant, Tim Nordquist, Gina Rodriguez, Daveed Diggs, Gabriel Iglesias, Flula Borg, Sally Phillips and Boris Kodjoe. Directed by Carlos Saldanha. [1:46 - PG]
---
Last Flag Flying - 2.4.10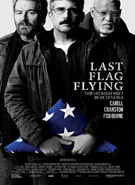 After a man (Steve Carell) is notified that his son has been killed in action in 2003, he seeks out two friends (Bryan Cranston and Laurence Fishburne) from his time in service in Vietnam to help him claim his son's body and make funeral arrangements. Also with J. Quinton Johnson, Deanna Reed-Foster and Cicely Tyson. Directed by Richard Linklater. [2:05 - R]
---
Star Wars: The Last Jedi - 1.6.3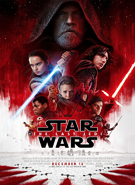 In this sequel a woman (Daisy Ridley) with a legendary lightsaber finds its original owner (Mark Hamill) and asks him to train her in the ways of the Jedi. She returns to her comrades to fight the First Order in a series of fiery battles. Also with Carrie Fisher, Adam Driver, John Boyega, Andy Serkis, Laura Dern, Domhnall Gleeson, Gwendoline Christie, Anthony Daniels and Peter Mayhew. Directed by Rian Johnson. A few lines of dialogue are spoken in alien languages without translation. [2:33 - PG-13]
---
Darkest Hour - 1.3.3
Set in May of 1940, the film chronicles the immense challenges Winston Churchill (Gary Oldman) faced as he became Britain's war-time Prime Minister: The German armies seemed unstoppable in Europe and the entire British army was surrounded and close to total annihilation in Dunkirk. Also with Kristin Scott Thomas, Lily James, Ben Mendelsohn, Stephen Dillane, Samuel West and Ronald Pickup. Directed by Joe Wright. [2:05 - PG-13]
---
---

---

COPYRIGHT POLICY

» You can print a page for your own use or to share with friends; sure, you can e-mail a page to a friend; and yes, please go ahead and link to our site. However, any commercial reproduction of anything appearing within this site without our written permission is illegal and in really bad taste and we will take action to prevent...

[more »]

---

---

---

---