YOUR HELP NEEDED
Although our site is very popular, the current economic climate has reduced our revenues just when we need extra security to prevent attacks from hackers who don't like what we do. If you think what we do is worthwhile, please donate or become a member.
---
---
---
HUH? WHAT IS THIS?
» We enable adults to determine whether a movie is appropriate for them or their children, according to their own criteria. Unlike the MPAA we do not assign an inscrutable rating based on age but 3 objective ratings for SEX/NUDITY, VIOLENCE/GORE & PROFANITY, on a scale of 0 to 10, and we explain in detail why a film rates high or low in a specific category; we also include instances of SUBSTANCE USE, a thorough list of DISCUSSION TOPICS that may elicit questions from children, and the MESSAGE the film conveys. Since our system is based on objective standards, not the viewer's age or the artistic merits of a film, we enable adults to determine whether a movie is appropriate for their own children...
[more »]
---
---
| | | |
| --- | --- | --- |
| | | We're a totally independent website, with no connection to any company or political group or individual. We want to keep it that way, and you can help with a donation. |
---
NEW REVIEWS -
---
Just Getting Started - 4.5.5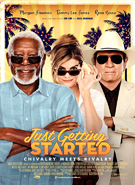 A man (Morgan Freeman) in witness protection manages a retirement resort in Palm Springs until he is discovered by the mob he used to work for and his life is in danger. He enlists the help of a new friend (Tommy Lee Jones) to save him. Also with Glenne Headly, Rene Russo, Joe Pantoliano George Wallace, Sheryl Lee Ralph and Elizabeth Ashley. Directed by Ron Shelton. [1:31 - PG-13]
---
I, Tonya - 6.6.10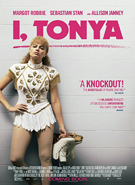 The real-life story of ice-skater and Olympic hopeful Tonya Harding (Margot Robbie) and the incident that brought her infamy and destroyed her dreams. Also with Sebastian Stan, Allison Janney, Bobby Cannavale, Mckenna Grace, Caitlin Carver, Bojana Novakovic, Julianne Nicholson and Paul Walter Hauser. Directed by Craig Gillespie. [1:59 - R]
---
The Shape of Water - 8.7.6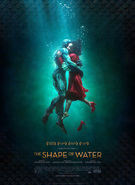 A woman (Sally Hawkins) working as a cleaner in a 1960s era laboratory discovers a secret containment area where an amphibious humanoid creature is held captive. She's drawn to the creature while officials have more sinister plans. Also with Michael Shannon, Richard Jenkins, Octavia Spencer, Michael Stuhlbarg, Doug Jones and David Hewlett. Directed by Guillermo del Toro. A few lines of dialogue are spoken in Russian with English subtitles. [2:03 - R]
---
The Post - 1.3.5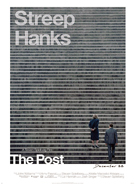 Inspired by true events surrounding the story of the publication of the Pentagon Papers by The Washington Post in the 1970s. With Meryl Streep, Tom Hanks, Sarah Paulson, Bob Odenkirk, Tracy Letts, Bradley Whitford, Bruce Greenwood, Matthew Rhys, Carrie Coon, Jesse Plemons and David Cross. Directed by Steven Spielberg. [1:56 - PG-13]
---
Downsizing - 6.4.7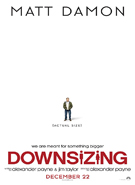 A husband and his wife (Matt Damon and Kristen Wiig) decide to undergo a groundbreaking procedure that will minimize their impact on the planet by making them really tiny and making their financial situation much more comfortable. Also with Christoph Waltz, Hong Chau, Rolf Lassgård, Ingjerd Egeberg, Udo Kier, Jason Sudeikis and Maribeth Monroe. Directed by Alexander Payne. Several lines of dialogue are spoken in Norwegian with English subtitles. Several lines of dialogue are spoken in Spanish with no subtitles or translation. [2:15 - R]
---
the listings continue below...
---
NOW PLAYING IN THEATERS -
---
The Man Who Invented Christmas - 1.2.1

In 1843, after a couple of failed books, Charles Dickens (Dan Stevens) was desperate for renewed success. He quickly and under formidable pressure managed to conceive and self-publish "A Christmas Carol," which turned out to be a huge winner and influenced the way we still celebrate Christmas. Also with Christopher Plummer, Jonathan Pryce, Morfydd Clark, Simon Callow, Miriam Margolyes, Ian McNeice, Bill Paterson, Donald Sumpter and Annette Badland. Directed by Bharat Nalluri. A couple lines of dialogue are spoken in Italian with no translation or subtitles. [1:44 - PG]

---
Wonder Wheel - 6.4.4

Set in the 1950s: a woman (Kate Winslet) working and living with her husband (Jim Belushi) and young son (Jack Gore) on Coney Island is thrown into a spiral of self-destruction when she has an affair with a younger lifeguard (Justin Timberlake) and her husband's estranged daughter arrives seeking a place to hide from gangsters. Also with Juno Temple and Max Casella. Directed by Woody Allen. [1:41 - PG-13]

---
Coco - 1.3.1

A young boy (voiced by Anthony Gonzalez) has a guitar and practices hard, desperate for a music career. He is stymied though because his family hates music, so he consults with his departed ancestors in the Land of the Dead. Also with the voices of Gael García Bernal, Benjamin Bratt, Renée Victor, Ana Ofelia Murguia and Alanna Ubac. Directed by Lee Unkrich. Several lines of dialogue are spoken in Spanish without translation. [1:49 - PG]

---
Roman J. Israel, Esq. - 1.4.5

An idealistic lawyer (Denzel Washington) learns that his law partner died in debt and their firm must be liquidated. Joining an affluent firm under one of the deceased's former students (Colin Farrell), he alienates wealthy partners, but befriends a social justice advocate (Carmen Ejogo) and learns that he can still do the right thing. Also with Lynda Gravatt, Amanda Warren, Lynn Jackson, Fritz Molinar, Connor Novick and Jessie Salinas. Directed by Dan Gilroy. [2:09 - PG-13]

---
Convinced that lawmen have dropped the ball on solving her daughter's rape and murder, a distraught single mother (Frances McDormand) rents three billboards leading into town with messages that denigrate the sheriff (Woody Harrelson). Also with Sam Rockwell, John Hawkes, Peter Dinklage, Caleb Landry Jones and Amanda Warren. Directed by Martin McDonagh. [1:55 - R]

---
The Star - 1.3.1

In the days leading up to Christ's birthday, a little donkey (voiced by Steven Yeun) and his friends help Mary (voiced by Gina Rodriguez) and Joseph (voiced by Zachary Levi) find a place to stay and escape the wrath of the King of Judea and Roman leaders. Also with the voices of Keegan-Michael Key, Kelly Clarkson, Patricia Heaton, Kristin Chenoweth, Tracy Morgan, Tyler Perry and Oprah Winfrey. Directed by Timothy Reckart. [1:26 - PG]

---
Wonder - 1.3.3

A 10 year old boy (Jacob Tremblay) born with unique facial features enters the 5th grade after having been home-schooled. While trying to fit in and feel ordinary he has to deal with the reaction from the other children. Also with Julia Roberts, Owen Wilson, Izabela Vidovic and Mandy Patinkin. Directed by Stephen Chbosky. [1:53 - PG]

---
Justice League - 3.6.4

When an evil power threatens the world's existence, Batman (Ben Affleck) and Wonder Woman (Gal Gadot) unite a league of super heroes that includes Aquaman (Jason Momoa), Cyborg (Ray Fisher) and the Flash (Ezra Miller) to save the planet. Also with Robin Wright, Connie Nielsen, Amy Adams, Amber Heard, Henry Cavill, Diane Lane and Jeremy Irons. Directed by Zack Snyder. A few lines of dialogue are spoken in Russian with English subtitles. [2:01 - PG-13]

---
Lady Bird - 6.3.6

The film follows a strong-willed high school senior (Saoirse Ronan) during the 2002-03 school year, as she struggles with her overbearing mother (Laurie Metcalf) and other people in her life. Also with Jordan Rodrigues, Tracy Letts, Beanie Feldstein and Stephen Henderson. Directed by Greta Gerwig. [1:33 - R]

---
Novitiate - 7.5.5

In 1954 a seven-year-old girl raised by an agnostic single mother (Julianne Nicholson) is introduced to Catholicism and as a young woman (Margaret Qualley) wins a scholarship to a Catholic school and to her mother's dismay, enters a convent. Vatican II disrupts the lives of the nuns and the novice suffers as her faith is challenged by pain, loneliness and sexual urges. Also with Melissa Leo, Dianna Agron, Morgan Saylor, Ashley Bell and Liana Liberato. Directed by Margaret Betts. [2:03 - R]

---
Goodbye Christopher Robin - 2.3.1

Biopic about A. A. Milne (Domhnall Gleeson), the famous author of children's books, who was inspired by his son (Will Tilston) and his stuffed animals to create the book series set in the magical world of Winnie the Pooh. While the series brought hope and laughter to the English after World War I, it placed undue stress on the family. Also with Margot Robbie, Kelly Macdonald, Phoebe Waller-Bridge, Alex Lawther and Vicki Pepperdine. Directed by Simon Curtis. [1:47 - PG]

---
---

---

COPYRIGHT POLICY

» You can print a page for your own use or to share with friends; sure, you can e-mail a page to a friend; and yes, please go ahead and link to our site. However, any commercial reproduction of anything appearing within this site without our written permission is illegal and in really bad taste and we will take action to prevent...

[more »]

---

---

---

---