YOUR HELP NEEDED
Although our site is very popular, the current economic climate has reduced our revenues just when we need extra security to prevent attacks from hackers who don't like what we do. If you think what we do is worthwhile, please donate or become a member.
---
---
---
HUH? WHAT IS THIS?
» We enable adults to determine whether a movie is appropriate for them or their children, according to their own criteria. Unlike the MPAA we do not assign an inscrutable rating based on age but 3 objective ratings for SEX/NUDITY, VIOLENCE/GORE & PROFANITY, on a scale of 0 to 10, and we explain in detail why a film rates high or low in a specific category; we also include instances of SUBSTANCE USE, a thorough list of DISCUSSION TOPICS that may elicit questions from children, and the MESSAGE the film conveys. Since our system is based on objective standards, not the viewer's age or the artistic merits of a film, we enable adults to determine whether a movie is appropriate for their own children...
[more »]
---
---
| | | |
| --- | --- | --- |
| | | We're a totally independent website, with no connection to any company or political group or individual. We want to keep it that way, and you can help with a donation. |
---
NEW REVIEWS -
---
Tomb Raider - 1.6.4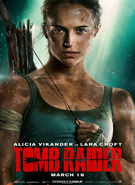 Based on the video game franchise: Adventurer Lara Croft (Alicia Vikander) is convinced that her explorer father, who disappeared seven years earlier, is still alive. She follows clues to a remote island where she encounters merciless mercenaries using slaves to find an ancient grave reputed to hide mystical powers. Also with Dominic West, Walton Goggins, Daniel Wu, Kristin Scott Thomas and Derek Jacobi. Directed by Roar Uthaug. [1:58 - PG-13]
---
7 Days in Entebbe - 1.5.5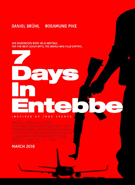 Based on the 1976 events when a plane on route to Paris from Tel Aviv was forced to land in Entebbe, Uganda by pro-Palestinian hijackers. A daring rescue by Israeli commandos was undertaken to free the hostages. With Rosamund Pike, Daniel Brühl, Eddie Marsan, Ben Schnetzer, Nonso Anozie, Denis Ménochet, Lior Ashkenazi and Angel Bonanni. Directed by José Padilha. Several lines of dialogue are spoken in French, German, Arabic and Hebrew with English subtitles. [1:46 - PG-13]
---
Love, Simon - 4.2.5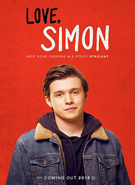 A teen boy (Nick Robinson) has a great family and friends, but he hasn't told them that he's gay. He struggles with when and how to tell them but when he is outed, he realizes that he can no longer come out on his own terms. Also with Josh Duhamel, Jennifer Garner, Katherine Langford, Alexandra Shipp, Jorge Lendeborg Jr., Keiynan Lonsdale, Miles Heizer, Talitha Eliana Bateman, Logan Miller and Tony Hale. Directed by Greg Berlanti. [1:49 - PG-13]
---
I Can Only Imagine - 1.4.1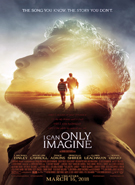 The Christian rock band MercyMe's "I Can Only Imagine" is considered the most-played contemporary Christian song, earning multi-platinum status. The movie recounts the travails of Bart Millard (Brody Rose and J. Michael Finley), writer and singer of the song, who composed it for his father (Dennis Quaid), an abuser that became a Christian to overcome his violent tendencies. Also with Cloris Leachman, Madeline Carroll, Trace Adkins and Priscilla Shirer. Directed by Andrew Erwin. [1:50 - PG]
---
the listings continue below...
---
NOW PLAYING IN THEATERS -
---
Thoroughbreds - 1.5.8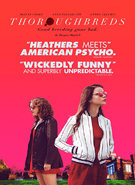 After being apart for years, two teenage girls (Olivia Cooke & Anya Taylor-Joy) re-connect in their Connecticut suburb and discover that they can help each other sort out some pressing personal issues. Also with Anton Yelchin, Kaili Vernoff and Paul Sparks. Directed by Cory Finley. [1:32 - R]
---
Gringo - 6.7.10
In Mexico, an American salesman of marijuana pills (David Oyelowo) gets in trouble when he discovers problems with his corrupt boss, drug lords and the DEA. Kidnapped by a cartel, he struggles to survive and when a rescuer appears, things only get worse. Also with Joel Edgerton, Amanda Seyfried, Charlize Theron, Yul Vazquez, Thandie Newton and Sharlto Copley. Directed by Nash Edgerton. Several lines of dialogue are spoken in Spanish with English subtitles. [1:50 - R]
---
A Wrinkle in Time - 1.4.1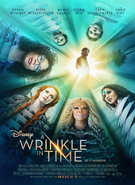 A 13-year-old girl (Storm Reid) acts out, frustrated and sad because her astrophysicist father (Chris Pine) disappeared four years earlier during a time travel experiment. Bullied by classmates and derided by teachers, she turns to her younger brother (Deric McCabe) who introduces her to his three celestial friends (Oprah Winfrey, Reese Witherspoon and Mindy Kaling) and she reluctantly agrees to an inter-dimensional journey to find her father. Also with Levi Miller, Gugu Mbatha-Raw, Zach Galifianakis and Michael Peña. Directed by Ava DuVernay. [1:49 - PG]
---
The Strangers: Prey at Night - 1.8.6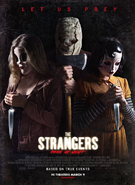 A family (Christina Hendricks, Martin Henderson, Bailee Madison and Lewis Pullman) on a road trip arrives at an isolated trailer park to stay with relatives. However, the park is abandoned and after moving into a trailer, the family is terrorized by a masked trio (Emma Bellomy, Damian Maffei and Lea Enslin) wielding knives and axes. The family must now escape to survive. Directed by Johannes Roberts. [1:25 - R]
---
Death Wish - 3.9.9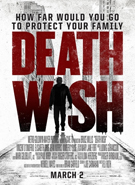 Remake of the 1974 Charles Bronson revenge movie: After his family is brutally attacked in their home, a wealthy surgeon (Bruce Willis) is frustrated with police inaction and so gets a gun and takes matters into his own hands. Also with Vincent D'Onofrio, Elisabeth Shue, Camila Morrone, Dean Norris, Beau Knapp and Kimberly Elise. Directed by Eli Roth. [1:47 - R]
---
Red Sparrow - 9.8.7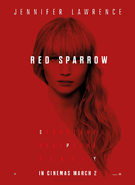 A top Russian ballerina (Jennifer Lawrence) suffers a career-ending injury and she is recruited into the secret corps of Sparrow operatives -- men and women trained to seduce enemy agents and extract intelligence from them. Her mission is to target a CIA agent but he's not easily swayed. Also with Joel Edgerton, Jeremy Irons, Charlotte Rampling, Mary-Louise Parker, Ciaron Hinds. Directed by Francis Lawrence. [2:19 - R]
---
Every Day - 3.2.4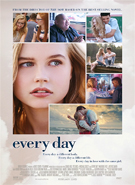 A teenage girl (Angourie Rice) finds herself falling in love with a spirit that seems to switch between different teenager bodies every day. The spirit occupies both male and female bodies and it is entirely in control until midnight when it has to move on to another body. Also with Justice Smith, Jeni Ross, Lucas Jade Zumann, Rory McDonald, Katie Douglas, Jacob Batalon, Ian Alexander, Sean Jones, Colin Ford, Jake Sim, Nicole Law, Karena Evans and Owen Teague. Directed by Michael Sucsy. [1:35 - PG-13]
---
Annihilation - 5.6.6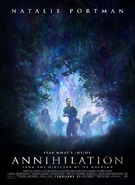 After a meteorite strikes Earth, the area around a lighthouse in Florida becomes an environmental anomaly where evolution may be accelerating and whoever goes inside disappears. A former soldier and top biologist (Natalie Portman) leads a team of experts into the anomaly in an attempt to understand what is happening. Also with Jennifer Jason Leigh, Oscar Isaac, Tuva Novotny, Gina Rodriguez and Tessa Thompson. Directed by Alex Garland. [1:55 - R]
---
Game Night - 3.6.6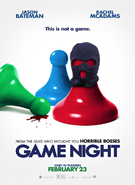 After gathering for a game night for years one member of the super-competitive group injects some excitement into the night with a mock-kidnapping. The idea is that the first participant to find the fake victim will win; except, it may all be real and real lives are at stake. With Jason Bateman, Rachel McAdams, Kyle Chandler, Sharon Horgan, Billy Magnussen, Lamorne Morris, Kylie Bunbury, Jesse Plemons, Michael C. Hall and Danny Huston. Directed by John Francis Daley & Jonathan Goldstein. [1:40 - R]
---
Samson - 1.5.1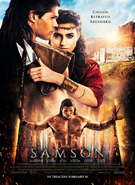 Based on the Old Testament Book of Judges: Samson (Taylor James), a young long-haired Hebrew prince with amazing physical strength is destined to defend his people against their oppressors but his doomed love for a Philistine woman (Frances Sholto-Douglas) leads him to murder, war and disaster. Also with Jackson Rathbone, Caitlin Leahy, Rutger Hauer, Billy Zane and Lindsay Wagner. Directed by Bruce Macdonald. [1:49 - PG-13]
---
Early Man - 2.3.1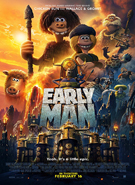 Stop-motion animation comedy about a resourceful cave man (voiced by Eddie Redmayne) who leads his tribe to defend their land from being taken over by another tribe that wants to set up a precious metal mine. Also with the voices of Tom Hiddleston, Maisie Williams, Timothy Spall, Richard Ayoade, Mark Williams, Miriam Margolyes, Nick Park and Rob Brydon. Directed by Nick Park. [1:29 - PG]
---
Black Panther - 2.6.3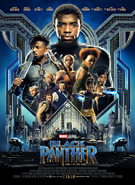 After the death of his father, a man (Chadwick Boseman) returns to the fictional African nation of Wakanda to claim the throne and guide his people. He also has to protect Vibranium, an otherworldly metal that redirects energy and is responsible for Wakanda's prosperity, from being stolen. Also with Michael B. Jordan, Lupita Nyong'o, Danai Gurira, Martin Freeman, Daniel Kaluuya, Letitia Wright, Winston Duke, Sterling K. Brown, Angela Bassett, Forest Whitaker, Andy Serkis, Florence Kasumba and John Kani. Directed by Ryan Coogler. Many lines of dialogue are spoken in foreign languages with English subtitles. [2:14 - PG-13]
---
The 15:17 to Paris - 2.5.5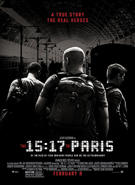 A recounting of the real-life August 2015 incident when three young Americans thwarted a terrorist attack on a train bound for Paris. Their story traces their childhood friendship until they find themselves on the fateful train and the three men (Spencer Stone, Alek Skarlatos and Anthony Sadler) play themselves as they reenact the attack. Also with Ray Corasani, Judy Greer, Jenna Fischer, Irene White, William Jennings, Bryce Gheisar, Stephen Matthew Smith, P.J. Byrne and Paul-Mikél Williams. Directed by Clint Eastwood. [1:34 - PG-13]
---
Fifty Shades Freed - 10.4.5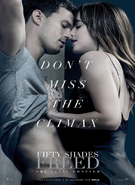 In this sequel the new Mr. and Mrs. Grey (Jamie Dorman and Dakota Johnson) struggle to reconcile the gaps in their financial and cultural backgrounds while they fight the unwelcome ghosts of their past and engage in explicit sexual activity. Also with Eric Johnson, Arielle Kebbel, Luke Grimes, Eloise Mumford, Rita Ora and Marcia Gay Harden. Directed by James Foley. [1:45 - R]
---
Peter Rabbit - 2.3.2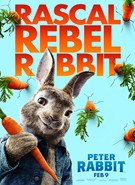 Based on the popular Beatrix Potter books: A new farmer (Domhnall Gleeson) tries to eliminate the pesky Peter Rabbit (voiced by James Corden) and his bunny family and they end up fighting over the attentions of a kind lady (Rose Byrne) as the rabbits grieve their departed parents. Also with Sam Neill, Daisy Ridley, Elizabeth Debicki and Margot Robbie. Directed by Will Gluck. [1:40 - PG]
---
Winchester - 2.5.1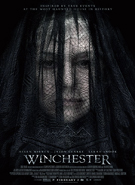 Set in 1906 California, the heiress to the Winchester Repeating Arms Company (Helen Mirren) lives in her unusual mansion and she becomes convinced that the spirits of all those killed by a Winchester rifle haunt the house and that she must give them the opportunity to pursue any unfinished business. Also with Sarah Snook, Jason Clarke, Angus Sampson, Eamon Farren and Laura Brent. Directed by Michael & Peter Spierig. [1:39 - PG-13]
---
Happy End - 2.4.5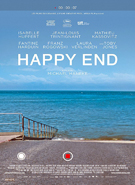 French family drama packed with instances of depression, suicide, infidelity and other self-destructive behaviors. With Isabelle Huppert, Jean-Louis Trintignant, Mathieu Kassovitz, Fantine Harduin, Franz Rogowski, Laura Verlinden, Aurélia Petit and Toby Jones. Directed by Michael Haneke. In French with English subtitles. [1:47 - R]
---
Maze Runner: The Death Cure - 1.5.4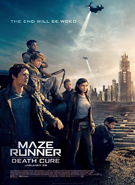 In this third installment of the "Maze Runner" trilogy, the leaders of the surviving Gladers (Dylan O'Brien, Thomas Brodie-Sangster and Dexter Darden) fight to free teenage victims of unethical medical experiments designed to find a cure for a zombie virus. Also with Kaya Scodelario, Nathalie Emmanuel, Giancarlo Esposito, Aidan Gillen, Walton Groggins, Ki Hong Lee, Barry Pepper, Will Poulter and Patricia Clarkson. Directed by Wes Ball. [2:22 - PG-13]
---
Den of Thieves - 5.7.10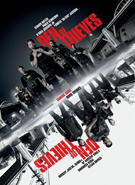 An LA County Major Crimes task force hopes to scuttle an audacious heist planned on the Federal Reserve Bank by criminals with army training. With Gerard Butler, Jordan Bridges, Pablo Schreiber, Evan Jones, Dawn Olivieri, O'Shea Jackson Jr., 50 Cent, Cooper Andrews, Sonya Balmores, Eric Braeden, Brian Van Holt and Maurice Compte. Directed by Christian Gudegast. [2:20 - R]
---
---

---

COPYRIGHT POLICY

» You can print a page for your own use or to share with friends; sure, you can e-mail a page to a friend; and yes, please go ahead and link to our site. However, any commercial reproduction of anything appearing within this site without our written permission is illegal and in really bad taste and we will take action to prevent...

[more »]

---

---

---

---